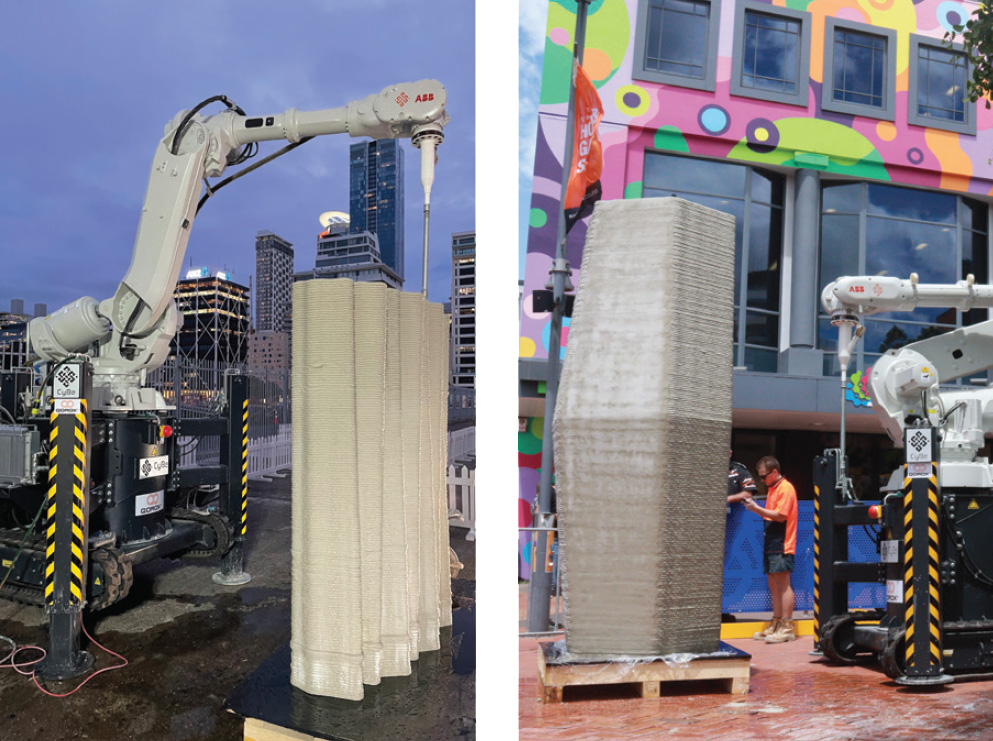 Frustrated by labour and skills shortages in the New Zealand construction sector, QOROX managing director Wafaey Swelim turned to automation, specifically 3D printed concrete construction.
Swelim, an architectural engineer with more than 20 years of experience in Egypt, Dubai, China and now New Zealand, says the speed and cost-effectiveness of 3D printed concrete construction could revolutionise the building industry, and make it a key solution to New Zealand's housing issues.
QOROX prints with 50Mpa (megapascal), on a par with traditional construction concrete, and one machine can print at up to 4.5sqm per hour with a reach of 2,500mm (D) x 5,000mm (W) x 4,000mm (H). With 20 machines Swelim predicts the tech would be capable of building 1,500 houses in a year.
A key efficiency, says Swelim, lies in staff training. "You are training machine operators instead of builders. It's much faster. The machine we have now takes two operators. The next generation machine will only need one."
He adds that on-site installation teams still need building skills and qualifications for the 3D printed construction, but those operating the printers do not. "If you're printing panels you don't need that expertise. That means operators can be trained up a lot more quickly.
"Plus the robot can't get COVID and it doesn't need to take a break."
Swelim says QOROX is 75 % faster and reduces waste by 70 % when
compared to traditional construction. For additional sustainability points, QOROX produces 40 percent less CO2 emissions through the building's lifetime.
In terms of cost, Swelim puts a 3D printed concrete residential construction similar to standard weatherboard builds, or pre-cast panels. "We actually get more cost efficient the more unique the design is, because we don't need molds."
Finished structures have been through testing to ensure they meet New Zealand standards for seismic strength and water tightness. The company's website lists everything from custom manholes and traffic bollards to houses, pedestrian bridges and sea walls as potential applications. Swelim believes QOROX is "limited only by physics and our imagination".
To date some of the early projects the company has completed include riverside park benches in Hamilton, where QOROX is based, and other projects for Auckland Council as well as projects for private architecture, construction and landscaping firms.
"We know we will be under a lot of scrutiny to see if we are successful, so we have been a little bit picky about who our early projects are with. But we have worked with some very positive early adopters. I think the fact that we've worked with city councils, which can be quite conservative, gives us good early credibility," says Swelim.
With bigger, still confidential projects in the pipeline, Swelim expects the next six to 12 months to be crucial for the business. Once it has proved its success and business case, the company will be looking to add more 3D printers to its current automated workforce of one.
"The New Zealand construction industry is currently like an Auckland traffic jam. What we are doing is hopefully providing a bit of a 'shoulder' to ease some of the pressure and keep some of that construction traffic moving.
"We don't see QOROX as a competitor for other construction methods. It's just another tool for the industry; one which enables an innovative approach to bespoke design, while reducing labour costs and our environmental impact."