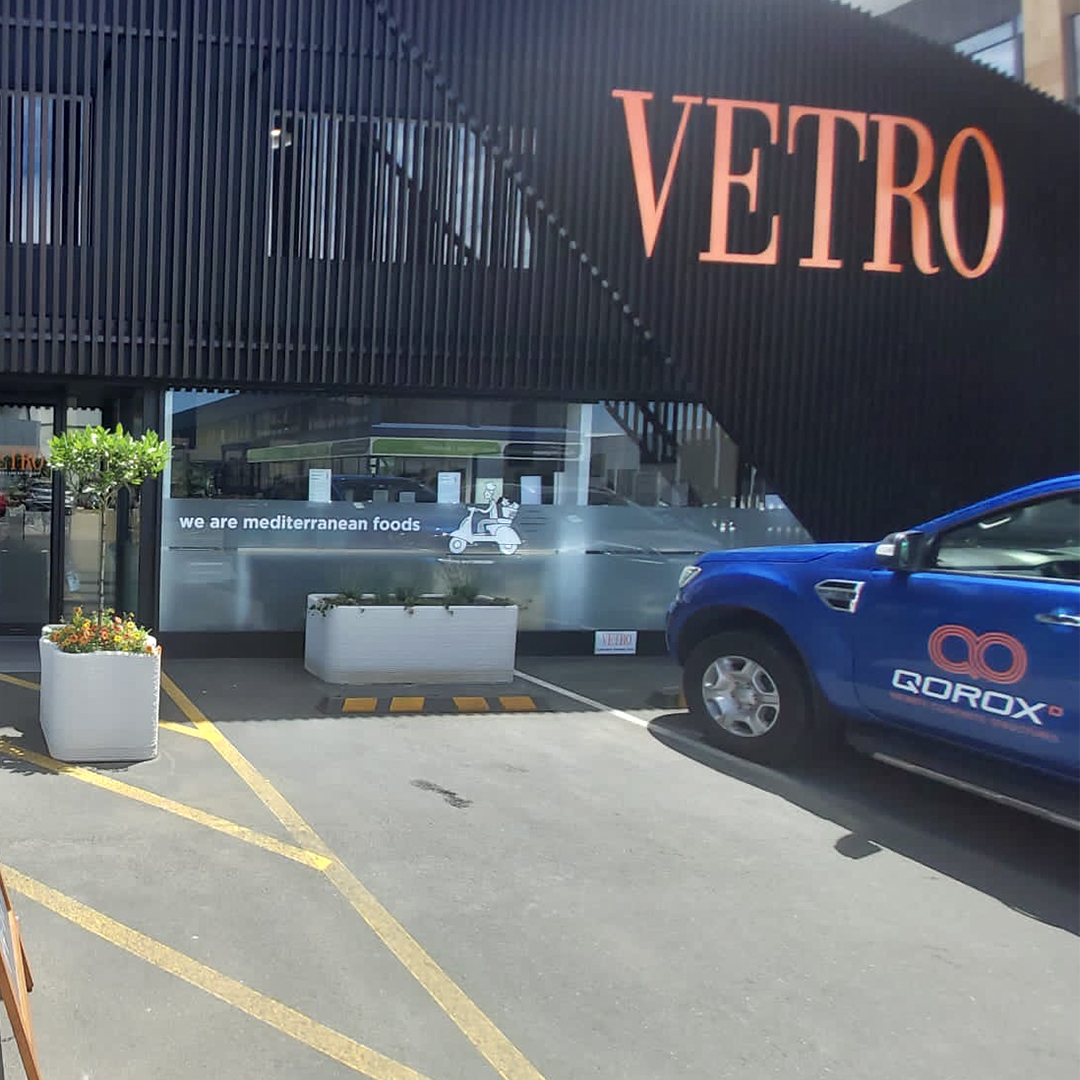 The ever-increasing number of ram-raids across New Zealand has inspired a Waikato company to develop an innovative solution to help NZ businesses guard against the criminal activity.
Until now, cutting-edge technology company QOROX, has been working on transforming the construction industry with 3D printed technology solutions, providing a convenient and flexible alternative to traditional construction methods. 
Managing Director, Wafaey Swelim said the innovative technology could be applied across a number of different applications, and the rise in ram raids inspired the company to think outside the box, creating a custom solution for retailers.
Traditionally, bollards have been used to control vehicle access and prevent ram raids on buildings and storefronts, however getting them installed can be a huge cost and inconvenience to retailers, pedestrians, and potential damage to underground power cables and pipes.
"We've approached bollards by moving away from a single-purpose structure and looking at how we can integrate it into the surrounding environment in an interactive way," Swelim said.
"Our protective barriers come in a number of varieties, including planter boxes, seating and other street furniture, which can be custom designed and fabricated off-site, cutting down on the cost and time for installation, and frustration for pedestrians, business owners and councils alike.
"We recently partnered with speciality food retailer and wholesaler Vetro Mediterranean Foods to create four custom textured planter boxes for their storefront on Rostrevor Street in Hamilton's CBD."
Hamilton owner, Anna Greentree said the solution had given them peace of mind at a time where retailers were worried about the increasing disruption. 
"Partnering with QOROX has been great. They've created the perfect alternative to ugly concrete bollards and we were able to custom-design the look of the planter boxes, adding in texture and getting them installed in no time. 
"We've installed the concrete planter boxes in front of our larger windows and at the main entrance which has given us a huge amount of safety and security but doesn't detract from the storefront which was key for us," said Greentree.
QOROX said one of the key advantages of 3D printed concrete is its ability to be customised to the specific needs of any location. Designed to unique shapes, sizes, colours and patterns, QOROX protective barriers can blend in with the surrounding architecture or become a feature of their own.
Swelim said the technology allows the protective barriers to be installed without the need for excavation on the footpaths, forecourts or car parks, making them suitable for any storefront requirements.
Swelim encouraged any business owner looking for a better way to help protect against ram raids to get in touch for a custom, and cost-effective security solution.