Project details
Client
American University of Sharjah (AUS)

Scope
Engineering, construction, certification, education
Printing time
48 hours
Start of project
Q3 2019
Was built in collaboration with the American University of Sharjah in the United Arab Emirates.
3D house
Customer Demand
The American University of Sharjah (AUS) and GCC Ginco LLc entered a collaboration with MEET to become a leading local company in 3D concrete printing. The role of CyBe was described as technology provided to support within construction, als well as giving training to trainees and conduct research at the university. To summarize, we were asked to function as technology and education partner, in order to make Sharjah a preferred destination for future architecture, as well as changing construction globally.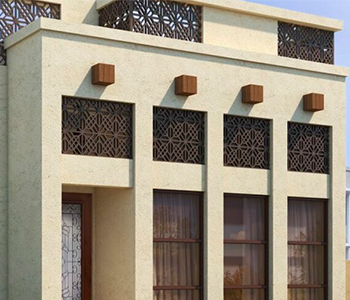 What we did
The Activities
The first 3D Printed house in the Sharjah Research, Technology and Innovation Park (SRTI Park) was build by the third quarter of this year. It is a result of a collaboration between three parties;  government, private, and academia. American University of Sharjah (AUS) supported in research and talent. The university is working on the development of this technology and training students through conducting applied scientific research by students, faculty members and a number of researchers from specialized companies, including MEET, which focuses on the constructions of 3D Printed structures. A group of students from the Faculty of Engineering at AUS will got hands-on training on this technique, executed by CyBe Construction. State-of-the-art technology and design were used, but on the other hand it was important to stay close to the UAE roots.
By introducing 3D Printing, SRTI Park is creating a proactive and supportive environment for experiments and research in the field of future building technologies and fourth generation technologies. The technology is considered to be one of the most innovative and reliable ways to build an integrated residential unit through the use of digital machinery. In addition, the technology reduced the costs of collection, transport and construction of the whole process.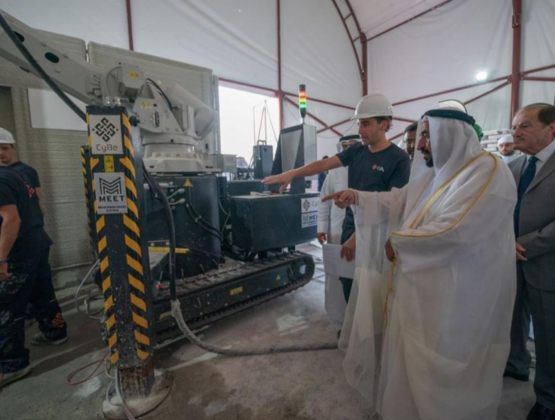 Learning by doing
What we've learned 
It was a relatively new experience to be printing outside in the sun, with extreme temperatures like 40 degrees Celsius. Although suitables measures had to be takes, the result still was excellent. Besides, we gave print operator training during the ongoing project, and training regarding Design & Engineering. This means we managed to combine various disciplines and were therefore more efficient.